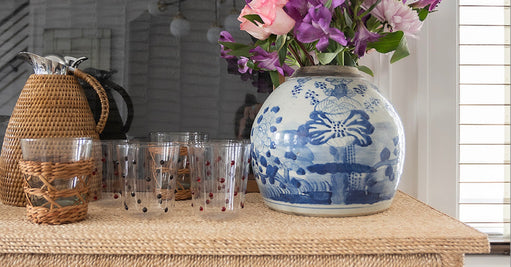 Drinkware
Drinking Glasses & Bar Accessories for the Home or Kitchen Bar 

Sip in style in one of our drinking glasses and tumblers.  Whether you are looking for modern glasses for alcoholic beverages or daily tumblers for non-alcoholic drinks, our drinking glasses and pitchers are what you need.  Make it even more elegant with one our our coasters from our drinkware collection and keep your furniture intact.  
Elevate the Basics with our Drinkware Collection

Whether you are looking to entertain or for daily enjoyment, our collection of tumblers and drinking glass sets will elevate any experience.  Our drinkware collection can tailor any of your specialty cocktails; from old-fashioned glasses, hand-blown Italian tumblers to French bistro glasses.   
Our casual elegant rattan cage glasses combined with our rattan wrapped pitcher will bring a timeless look to your table setting. 
Drinking glasses offer you the full experience while you are entertaining.  Your favorite liquors, cocktails, and drinks come to life with a touch of style and formality.  
Keep your drinks cool with ice buckets

One of our glass pitchers or ice bucket will offer a unique way of entertaining whether you prefer formal or informal entertaining.  Keep your beverage cold in one of our ice buckets.  Mix and match glasses from our drinkware offerings will look fantastic next to our reclaimed wood ice bucket.  Entertain Al-fresco while keeping your refreshments cool under the sun is a must.

Elevate Entertaining with our Coaster Collection
An easy and elegant decorating trick, coasters bring not only beauty to your soiree, but they can also help protect your furniture.  When choosing your coaster, keep in mind the quality and materials used in the coasters.  Natural fibers and hand crafted coasters bring a touch of nature to your home and are practical and sustainable.  For formal get-togethers use a coaster set and for more casual ones mix and match styles and colors.  
Types of Drinkware
Julie and Ev offers all kinds of drinking glasses for your beverage.  From formal occasions to casual, our drinkware collection offers, water glasses, espresso cups, cocktail glasses, and glass tumblers.
Bar Glasses
Double Old Fashioned - Also known as lowball and rocks glass, DOF is a short tumbler used to serving spirits, such as whisky, rum, gin and others. 
Tumbler - Ideal for everyday beverages like milk, lemonade, juice or iced tea, a tumbler glass is flat-bottomed drinking glass.
Goblet - Is a glass with a stem.  Goblets are usually used for serving water.
Highball - Is a tall glass usually used for mixed drinks and cocktails.  A highball glass is taller than an Old Fashioned glass, but shorter and wider than a Collins glass.
Wine Glass - A wine glass is a type of glass that is used to drink and taste wine.  Most wine glasses are stemware, that is they are goblets composed of three parts: the bowl, stem, and foot. Depending on the type of wine you prefer, there is one wine glass suitable for it.  From Champagne flute and champagne coupes for sparkling wine to goblet glasses for red wine and white wine.  
Bistro Tumbler Glasses - Bistro glasses are intended to reflect the casual style of bistro restaurants atmosphere.  Known for their durability, bistro glasses range from drinking spirits, juices, wine and even beer.  They are usually stackable making them easy to store.