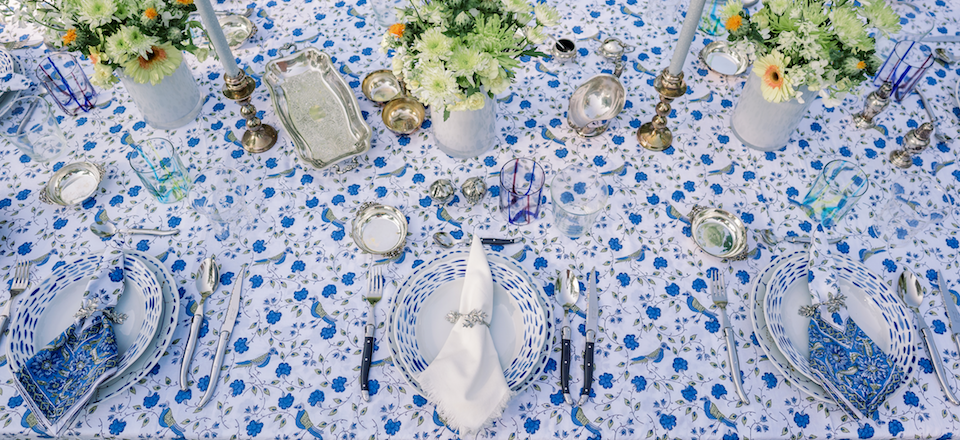 Dinnerware
DINNERWARE COLLECTIONS FOR ALL YOUR GATHERINGS
Our elegantly and curated selection of globally sourced dinnerware will bring style to your table.  From hand-painted plates in bright hues to more formal designer dinnerware, Julie and Ev offers a curated selection of dinnerware.  To convey a whimsical look, consider our made in Portugal dinner plates.  If you are looking for a more casual experience, our Japanese bowls are perfect for that.  Embellish the table with one of our Indian hand block tablecloth. 
WHITE DISH SETS WITH TEXTURE
If you prefer a timeless but unique look that you can use year-round, choose our hand made textured white porcelain dish set with Geranium design.  The plates, espresso cups and leaf trays allow you to always live beautifully and casually at the same time.  Add color to your table with our blue and white tablecloth and fresh flowers and you have a legendary experience for any occasion.  Our artisanal stoneware dinnerware collection are dishwasher-safe for a modern life.  
Stylish Dinner Plate for Entertaining
Our modern dinner plates will let you set a stylish table.  From our hand-painted Italian plates in fun hues to our Portugal porcelain dish set, we offer aesthetic and quality dinner plates.  Dinner plates are available in multiple materials including porcelain, stoneware, earthenware, Japanese ceramic and many are microwave , dishwasher, and oven-safe.  Choose traditional round plates, leaf-shaped trays or green or white cabbage leaf plates.  For a casual yet chic table setting, mix and match from our different dinner plates selection.